Axopar 22 World Premiere
---
Go Back to Newsfeed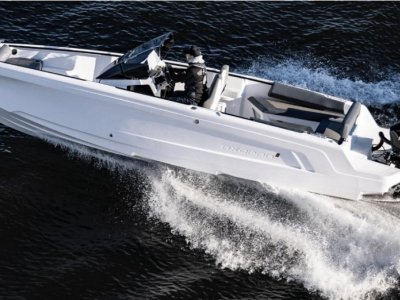 A never seen before event in boating - broadcast from an 眉ber-cool industrial building; the Train Factory. An evening full of interesting insights, interviews and slipping the covers off the Axopar 22 Spyder and the flagship model -
the eye catching Axopar x Jobe Revolve XXII.
During the launch Co-Founder and Creative and Innovative Director, Jan-Erik Viitala was joined by Designer Jarkko J盲msen to discuss why they decided to create the Axopar 22 and the key benefits they were attempting to achieve. The pair reveal the secrets behind how the Axopar 22 was designed and talk about how they used virtual reality and Computer Fluid Dynamics (CFD), also explaining why they design Axopar hulls the way they do. They
also discuss the layout options and why they decided these were the ideal offerings for Axopar owners.
What is really amazing about the creation of the Axopar 22 is the proof of how far technology has come and how designers are using it today. Aivan, the company J盲msen co-founded is one of the first to really use virtual reality to design boats and this is what they primarily used when creating the Axopar 22. Of course, they also created wooden mock - ups, one of the more classical methods but taking everything virtual allowed for designers to contribute to the project from all around the world. The team now also have access to Computer Fluid Dynamics (CFD) which gives them the ability to see how the water pressure reacts under the water and against the hull.

For more information, check out: